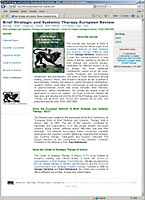 Publikationen und Links
Zen and systemic therapy:
Similarities, distinctions, possible contributions of Zen theory and Zen practice to systemic therapy
Dr. Herbert Gröger, Luigi Trenkler
Erschienen im BSST European Review 2005
zur BSST Website
Abstract
Zen and systemic therapy: Similarities, distinctions, possible contributions of Zen theory and Zen practice to systemic therapy
The basic motivation of the article is that the authors experience their "going into Zen" as enlarging for their work as systemic psychotherapists. On this base they ask how Zen in the context of systemic psychotherapy – on a theoretical and practical level – can be seen and practiced respectively can be used.
Chapter one approaches the subject Zen from three points of view: Zen history, Zen teaching, and Zen practice. Chapter two introduces a Koan (teaching device/riddle) and possibilities of its interpretation. Chapter three is dealing with common interests and differences concerning systemic psychotherapy. Differences exist in the particular sociological, historical, and cultural context. Subjects of common interest are concepts of constructivism, practicability, and solution orientation, the dealing with paradoxes, as well as basic attitudes of self determination and trust in competence. Finally considerations are developed how Zen could enlarge the systemic psychotherapy.
Keywords: systemic therapy, Zen, Buddhism, psychotherapy and spirituality